Jungheinrich
For over 60 years, German company Jungheinrich has ranked as one of the world leaders in the design and engineering of battery electric materials handling equipment. 
Jungheinrich pride themselves on offering customers a complete warehousing equipment range. From advanced lithium ion technology to proven energy efficiency, Jungheinrich are known for their technologically advanced designs and providing the best solution for the long-term profitability of their customers.
Solutions
Service
The Jungheinrich after-market service team provide nation-wide support for the entire range of Jungheinrich range of equipment.
We have always believed that the investment a customer makes should be reciprocated with the most optimal service and care of a units working life. With this commitment, down-time and costs will be minimised, productivity is maximised and the future re-sale value can be optimised.
Our nation-wide offices contain comprehensive workshop facilities and fully equipped Jungheinrich service vans to ensure your unit will operational within hours. Jungheinrich also offer 24/7 service provided by our national service vehicle fleet.
Our factory trained technicians and support team can help determine the best servicing solution for you. Whether this be a tailored-made solution, flexible maintenance schedule or a constant on-site support for your fleet, anything is possible!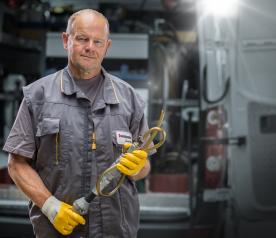 Parts
To safeguard our customer's long-term investment, our servicing departments use Jungheinrich genuine spare parts to ensure the optimum interaction between all components.
What you can expect when using Jungheinrich Genuine Spare Parts
Longer parts and truck life
Lower labour costs driven by parts reliability, fit, documentation and support
Easier and faster part replacement
Parts warranty claims adhered to whereas the use of non-genuine parts can interfere with warranty claims
Our National Parts Centre have a large holding of genuine spare parts that we can supply to support the Jungheinrich product range nationally.
A one stop shop for complete logistic systems
Planning & Project Design
Based on a detailed data review of your warehouse processes and the on-site truck fleet, the Jungheinrich materials flow consultant identifies and analyses possible improvement potential.
Trucks & Assistance Systems
We know what it takes to ensure forklift trucks, software and racks are perfectly coordinated with one another. We offer intelligent assistance systems for all or our trucks to help your warehouse run with greater speed, flexibility and process security.
Software and automated systems
Our Warehouse Management System, the Jungheinrich WMS, forms the backbone of intelligent control of your warehouse processes.
Implementation and system integration
We help to ensure that both hardware and software interact seamlessly.
Service and support
Our service offering is flexibly adapted to suit your individual needs and to ensure the long-term security of your investment and planning.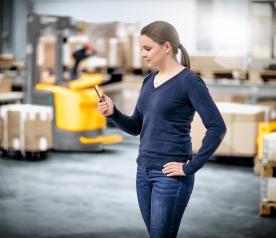 Logistic Software
Jungheinrich offers optimal solutions from warehouse management, digitalisation, automation to fully integrated IT solutions. Regardless of the warehouse size, budget, degree of automation or whether it is a new or an existing warehouse, you can accomplish shorter processing times more efficiently and cost effectively with Jungheinrich's Logistics Software.
Jungheinrich Warehouse Management System (WMS)
Increase the efficiency of your intralogistics processes and reduce your costs by up to 70% with Jungheinrich's Warehouse Management System (WMS). It is our extensive WMS solution which is perfectly tailored to your company – so that the software adapts to your company and not vice versa.
Truck Guidance System
The Jungheinrich truck guidance system sends the correct trucks to the selected location at the right time. By managing your fleet of fork lift trucks as well as the transport orders to be executed, the Jungheinrich truck guidance system is able to optimise your warehouse system.
Warehouse Navigation Software
Warehouse Navigation uses RFID technology for a semi-automatic approach when operating within your warehouse aisles. Embedded transponders in the warehouse floor guide your trucks to programmed destinations.
Benefits
Increased efficiency by up to 25%
Improve logistics performance and accuracy
Reduce logistics costs
Alleviates operator stress
Prevent stacking and retrieval in incorrect locations
Can be used with or without WMS
SmarTrack Fleet Management System
Monitor your fleet data with the sophisticated SmarTrack Fleet Management System. Collect information about each individual truck via an online portal- 24 hours a day, 7 days a week.
Features & Benefits
Improved productivity with real time data
Improved site and driver management with accurate fleet reporting
Increase operator involvement with a post-start checklist
Login deactivation on driver's license expiry
Swipe card or pin code access
Send internal messages to the drivers screen
Automation- based on tried and tested standard vehicles.
Our Automated Guided Vehicle (AGV) allow for transporting loads up to 2.5 tons to bays on pre-determined routes – fully automated, safely and thanks to its laser navigation with absolute precision. Thanks to intelligent route control, the driverless vehicles are able to search for the best route and execute their tasks reliably and efficiently.
Jungheinrich's Automated Guided Vehicles adapt perfectly to your existing warehouse processes. They fit into your operation- as part of your fleet- next to the manual trucks and parallel to your employees.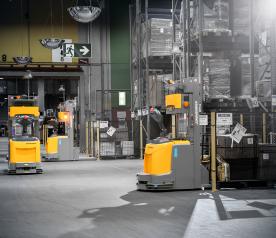 Rental & Hire
Don't worry about interest, depreciation, insurance premiums and service costs. Hire the perfect forklift for your specific requirements and for the desired timeframe – be it for one day, a week or a whole month. You also benefit from inclusive rates designed for short or longer rental periods. These incorporate all costs for service and usage as well as an optional machine breakdown charge.
FIND OUT MORE
Used Forklifts
View our range of used Jungheinrich Equipment.
View the used equipment