TCM
TCM a household name in Australian Businesses is now wholly owned and operated by global manufacturer UniCarriers Corporation and was the first manufacturer of forklifts in Japan starting in 1949.
The quality, engineering and reliability of TCM is reflected in the fact that today it commands the reputation as one of the most reliable forklifts on the market and TCM Forklifts are built tough to handle all conditions.
As the Australian TCM importer and distributor, we can provide you with the best products and services suited to your business operations.
Solutions
Service
We believe the delivery of a TCM Forklift is only the start of our relationship with our customers. It is reciprocated with the highest standard of service to ensure your forklift's down-time and costs will be minimised and productivity is maximised.
Jungheinrich Partners Australia have comprehensive workshop facilities within each of our nation-wide branches. With these infrastructures emplace, we guarantee prompt servicing and repair with minimal downtime.
Our fully equipped service vans, servicing metropolitan and regional locations around Australia, will have your unit operational within hours. Jungheinrich Partners Australia also offers 24/7 service, provided by our national service vehicle fleet.
Our factory trained technicians and support team can help determine the best servicing solution for our customers. Whether this be a tailored-made solution, flexible maintenance schedule or a constant on-site support for your fleet.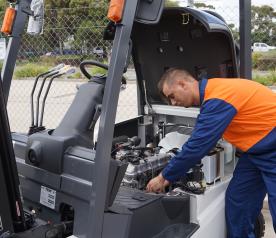 Parts
The quality of spare parts is one of the key elements in maintaining the condition of your forklift. Which is why Jungheinrich Partners Australia use Genuine Spare Parts on all TCM products serviced. The parts are engineered to the highest engineering standard ensuring the residual value and longevity of your machine.
Our National Parts Centre have a large holding of genuine spare parts that we can supply to support the Kalmar product range nationally.
Rental & Hire
Forget about interest, depreciation, insurance premiums and service costs. Hire the perfect forklift for your specific requirements and for the desired timeframe.
View Rental and Hire Equipment
Used Forklifts
View our range of used TCM Equipment.
view used equipment