Very Narrow Aisle Forklifts
VNA Forklifts & Reach Trucks
Jungheinrich Partners Australia have your VNA Forklift / Very Narrow Aisle Forklift solutions covered.  Jungheinrich Partners Australia are the natinoal distributors for the internationally recognised market leader in VNA Vehicle Solutions, Jungheinrich.  Contact your local office to discover how the range of Jungheinrich VNA Vehicles and Reach Trucks will improve warehouse efficiency and reduce operating costs.  Call 1300 660 120 today.
Our warehouse navigation system will show you the ideal route.
Nobody locates a pallet location as quickly and economically as our EKX equipped with warehouse navigation.
For EKX 410-515, EKS 210-312, ETX 513-515
VNA Forklifts / Very Narrow Aisle Forklifts Basic Characteristics
Efficiency increased by up to 25%
Alleviating operator stress
Automatic responses without scanning
Preventing stacking/retrieval in incorrect locations
Less damage on the racking
Can be used with and without warehouse management system
RFID technology and the Jungheinrich Logistics Interface make it possible: The narrow aisle truck continually feeds back its location via transponders in the floor. Orders received from the warehouse management system are transmitted to the truck's radio data terminal. The terminal's Logistics Interface translates the data and passes on the information directly to the truck controller. This means the truck knows the exact destination to approach. The operator simply has to give the travel and lift commands and the truck will approach the pallet location automatically in diagonal travel.
Jungheinrich: What's possible with VNA and Warehouse Navigation
Advantages in overview
Improved productivity and relieving the stress on your operators
IT integration via Logistics Interface
Truck functions
Stand-alone solutions
World leading VNA Turret Truck and Order Picker products
Working with our Jungheinrich partners we will assist your company in warehouse design (including racking positions) or review your current warehouse materials handling systems to maximise your warehouse efficiency.
For more information please contact Jungheinrich Partners Australia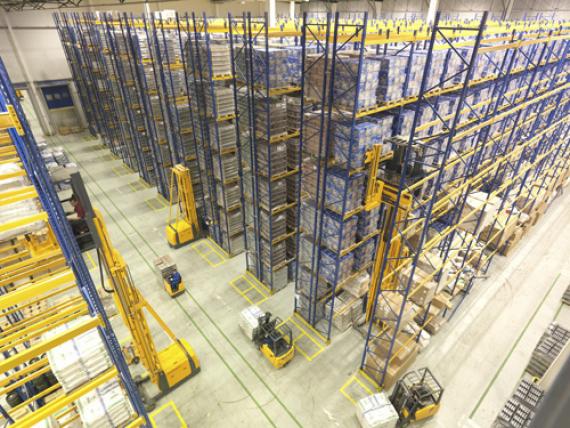 Where space is at a premium, the key to efficient warehouse operations is a very narrow aisle forklift from Jungheinrich Partners Australia. Contact Jungheinrich Partners Australia today for further information.
Very Narrow Aisle Forklift
At Jungheinrich Partners Australia, we're committed to assisting our customers in implementing strategies to help the overall efficiency of their warehouse operations. One such solution, which can also help to reduce operating costs, is a Jungheinrich very narrow aisle forklift. A Jungheinrich very narrow aisle forklift can facilitate efficient shelving solutions, and in terms of pallet location, nothing can surpass the EKX very narrow aisle forklift equipped with warehouse navigation. More than just providing you with the correct equipment, here at Jungheinrich Partners Australia, we'll go the extra mile and will work with our partners at Jungheinrich to assist in developing your warehouse design and review any systems you have in place. For further information about how a Jungheinrich very narrow aisle forklift can help your business, or for information on any forklift we stock contact Jungheinrich Partners Australia today.