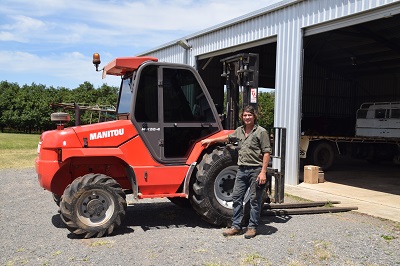 Chris and Scott Fullerton from Fullarton Farms in Elimbah, Sunshine Coast are 4th generation farmers involved in growing 2.3 million pineapples every year. Recently celebrating their centenary of farming pineapples, their longevity makes them a major player in the industry. They supply their produce to various clients including the iconic Australian brand Golden Circle. The family company's more recent venture includes farming macadamias within the same region.
To keep up with demand, Fullarton Farms recently purchased a Manitou M-X30-4 from NTP Forklifts Australia.
Requiring a machine that was powerful enough to comfortably handle the 1 tonne bins of pineapples, the Manitou M-X 30-4 was a logical choice. The unit is a 4-wheel drive masted forklift capable of handling loads of up to 3 tonnes. This forklift comes equipped with shock absorber technology for enhanced stability to increase driver comfort, safety and manoeuvrability.
The machine has a full enclosed cab and is air-conditioned; a delight on those long hot days in the sun.
Purchasing a Manitou was a logical choice for Fullarton Farms. They knew it had the endurance and performance to withstand the ever changing seasonal conditions. After all, this is now their third Manitou machine onsite. They purchased their first two in 2009 and are pleased to report their still going strong.
For more information on the range of materials handling equipment and services from NTP Forklifts Australia make an enquiry here or call 131 687.