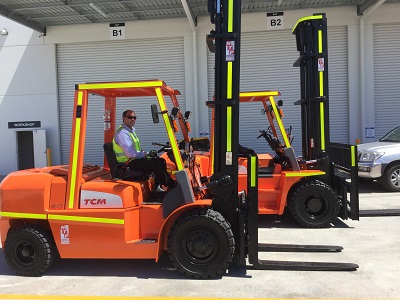 Hitachi Construction Machinery is a leading manufacturer of construction and mining equipment, headquartered in Japan. Hitachi market their products worldwide through a global network of company owned and independent dealers.
It was only June, 2016 NTP Forklifts Australia delivered a TCM FD160S-3 to the Distribution Centre in Forestdale, WA. Impressed with its ease of use, proven reliability and easy maintenance, they invested in 2 more TCM machines; a TCM FD70Z8 and a TCM FD50T9.
Like all TCM Machines, these machines are reliable, powerful and capable of withstanding hard working conditions.
The machines were fitted with various attachments including Speed Limiters, Emergency stop button, Side shift fork positioner, tinted roof cover, battery isolator, analogue weight gauge, solid tyres and once again painted with the iconic Hitachi colour.
The will be great additions to Hitachi's extensive range of mining equipment.
For more information on the range of materials handling equipment and services from NTP Forklifts Australia make an enquiry here or call 131 687.