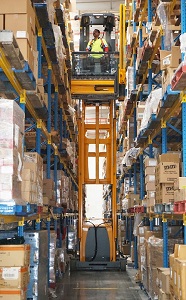 Catch of the Day is one of Australia's leading e-commerce organisations, offering customers a unique shopping experience. With 8,000 orders daily, they take the lead when it comes to distribution and delivery. In November 2014, the 25,000m2 warehouse became one of the first in Australia to introduce robotic automated picking. This innovation allowed them to work smarter and deliver customer orders in record time, especially important over busy seasons like Christmas and Easter.
To complement their sophisticated picking system, NTP Forklifts Australia provided Catch of the Day with a fleet of 32 Jungheinrich machines.
Their fleet consists of electric pedestrian pallet trucks, three and four wheel counterbalance trucks, pantograph reach trucks and vertical order pickers. But arguably the most flexible and cost effective truck within their fleet is the EKX 410 Tri-Lateral Stacker.
The machine is designed to travel diagonally down aisles, encouraging aisle width to be as narrow as possible. A lift height of 7500 mm ensures aisle height can also be optimised. This provides optimal space utilization for the growing company.
To increase productivity and ensure accuracy and safety is upheld at all times, the EKX 410 operates on a guidance rail system fixed to the warehouse floor. This allows for high travel and lift speeds without the need for operator intervention. The simultaneous lift and lowering of the main auxiliary mask means the truck can reach its next location faster.
Jungheinrich's 2Shifts1Charge promise, ensures Catch of the Day's forklifts are operational for 16 hours on a single charge. This is due to the highly efficient control technology, state-of-the-art motor technology and effective energy management. During their busy Christmas period, a long battery life was imperative in ensuring customer demand could be met.
Operator and pedestrian safety is paramount within the Catch of the Day warehouse. Hence why each machine is fitted with the RCT Fleet Management System Operator prestart Checklist. Operators have their own individual swipe cards and are prompted through questions that must be completed before the machine can be operational. The RCT Fleet Management system stores licenses and restricts operators to specific machines. Distribution Manager, Saar Davidi says, 'although the operator takes an extra 5 minutes before operating the machine, it ensures driver, pedestrian and vehicle safety is upheld at all times.'
To reduce breakdown, a NTP service technician is on site daily. When a machine is in need of a serious repair, Catch of the Day have been pleased with NTP's prompt service. Saar Davidi recalls a time, in the midst of the Christmas period rush, when a machine was in need of a serious repair. With every machine playing a vital role in the production line, an urgent fix was required. Committed to reducing down-time, NTP had a technician sent out within hours and the truck was operating the following day.
For more information on the range of materials handling equipment and services from NTP Forklifts Australia make an enquiry here or call 131 687.