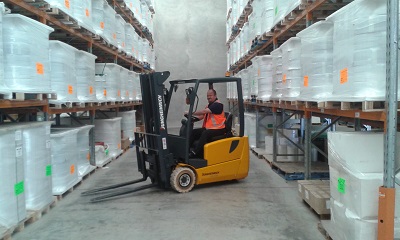 Fromm Packaging, apart of the FROMM Group, designs, develops and produces a wide variety of systems for unitising and palletising goods for transport. This includes the likes of strapping machines and systems, pallet stretch wrapping machines, the patented Airpad pillow system, together with all necessary consumables. With branches in Queensland, NSW and Victoria, they owe their decades of successful to upholding their traditional values such as proximity to customers, quality consciousness, continuity, independence and environmental awareness.
The Fromm Packaging Queenland Branch located at Seventeen Mile Rock associate NTP Forklifts Australia as a supplier of quality & innovative equipment and service. Already an owner of a Jungheinrich EFG 320, the decision to purchase a Jungheinrich EFG 216kn from NTP was an easy one.
The EFG 216kn is apart of Jungheinrich's economy range of forklifts. The truck is manufactured with the same German quality already known to Fromm Packaging but at a lower price.
There is certainly no comprise with speed and manoeuvrability with the Jungheinrich N Series. High torque values, no drops in torque level and no loss of speed result in dynamic travel and maximum throughput. This results in operators unloading stock out of containers and into the Fromm Packaging Warehouse faster. The three-wheel truck has a twin wheel which provides the driver with maximum manoeuvrability; a desirable feature in a warehouse environment.
This machine contains the well-known Jungheinrich in house built AC Technology enabling up to 2 shifts on the one battery. This contributes to higher productivity levels and efficiency.
Their new machine will be a great addition to Fromm Packaging and complimentary to their existing Jungheinrich EFG 320. Overall, Fromm Packaging was pleased with the product and service NTP provided.
For more information on the range of materials handling equipment and services from NTP Forklifts Australia make an enquiry here or call 131 687.