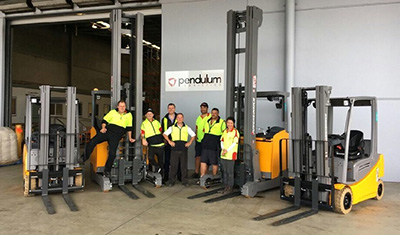 Pendulum Logistics was founded in 2006 to provide customers with an alternative 3PL Logistics provider whose philosophy revolves around relationships, value and culture.
Their extensive expertise in Logistics, Production and Procurement lead the path for Pendulum Logistics to provide their customers with leading secure technologies, customised supply chain solutions and processes to enhance their business and continuous improvement objectives.
Pendulum Logistics offer a one stop shop solution. They are committed to delivering a high level of customer service, quality service and flexibility to exceed customer's expectation.
Requiring additional forklifts for their busy operations, Pendulum Logistics purchased 2 x Jungheinrich EFG 320-480 DZand 2 x ETV 214-10250 DZ from NTP Forklifts Australia.
Having an understanding of Jungheinrich's products ensured they were familiar with the outstanding German engineering, performance and reliability.
The Jungheinrich ETV 214 was fitted with various attachments including the Lift Plus performance package, fork camera system with monitor, horizontal fork positioning, LED working lights and hydraulic mast cushioning system. The space saving design caters for warehouses with narrow aisle widths and doors with low clearances. With fast lift speeds capable of lifting 1.4 tons to heights over 10 meters, the ETV 214 is the perfect addition for the expanding logistics company.
The Jungheinrich EFG 320 can be adapted to any situation using five individual work programs. The jerk free travel, smooth reversing and precise positioning ensures the driver is comfortable during long shifts. Additionally, the ergonomically designed operators cab allows for relaxed operations with low fatigue.
Our Pure Energy technology concept, featured in both the ETV 214 and the EFG 320, achieves the best possible energy efficiency coupled with maximum performance. By using the most advanced 3-phase AC technology as well as the compact hydraulic unit, Pendulum Logistics have been able to significantly reduce energy consumption – while simultaneously increasing throughput. As a result of this technology, Jungheinrich guarantees up to 2 shifts with 1 charge. There new forklifts will be able to work two shifts at a time with no interim charging or having to switch the battery saving precious time and valuable energy while lowering operating costs.
Overall, Pendulum Logistics is happy with their new Jungheinrich machines as well as the commitment shown by NTP Forklifts Australia.
For more information on the range of materials handling equipment and services from NTP Forklifts Australia make an enquiry here or call 131 687.