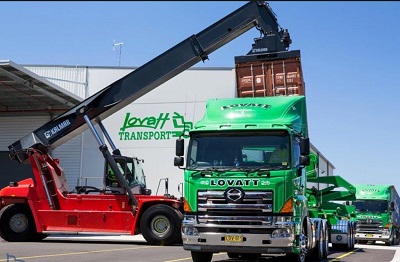 Lovatt Transport is a privately owned Australia Company located in Botany, New South Wales. Established in 1979 by William (Bill) Lovatt, the company has been operating and transporting for small, national and multi-national companies for over 35 years. Lovatt Transport provide a service that is not only professional and reliable but unique in its excellence. So much so, Sydney Ports Corporation awarded them the Best Operational Performance of the Ports 4 consecutive years in a row (2012, 2013, 2014 and 2015.)
In an industry where timing, precision and efficiency is paramount, the equipment used in operation must uphold these same principles. Traditionally using forklifts to lift and maneuver containers onto trucks, NTP Forklifts Australia were confident Lovatt Transport newly delivered Kalmar DRT 450 Reachstacker would exceed all expectations.
Known for its's power, the DRT 450 has a lifting capacity of 45 tonnes. The modern hydraulic systems ensures faster lifting speeds and better control. The working hydraulics and the brake system come equipped with separate oil tanks, oil coolers and oil filters. This keeps the oil clean and reduces maintenance costs.
The DRT 450 is proficient at handling loaded containers quickly and efficiency, even within Lovatt Transport's busy distribution facility. Eliminating the need to pick up a container on a right-angle results in a faster turn-around on incoming and outgoing freight. They can now rotate the containers so the doors are rear/front for side loader deliveries, ultimately improving productivity.
In addition to its power and maneuverability, the machine's ergonomics contributes to the overall productivity. Kalmar are well known for ergonomics and this machine is no different. Possessing the same driver stability, optimum visibility and intuitive controls.
The comfortable Spirit Delta high visibility cabin is optimised to improve driver performance. The large windows ensure drivers can confidently see their surroundings and have full control over the machine at all times. Once again contributing to smoother operations, increased efficiency and importantly, safety.
In an environment where staff are working side by side with moving vehicles there is always a personnel safety risk as well as an increase in the risk of damaging other objects. To ensure safety is upheld at all times, Lovatt Transport fitted the DRT 450 with a reverse warning system including sensors. Weight scales were also fitted to the reach stacker. This is to ensure the machine is compliant with the SOLAS regulations.
The team at Lovatts Transport were impressed with the Kalmar DRT 450 as well as the professionalism NTP Forklifts Australia showed.
For more information on the range of materials handling equipment and services from NTP Forklifts Australia make an enquiry here or call 131 687.